The 1900 Storm: Tragedy and Triumph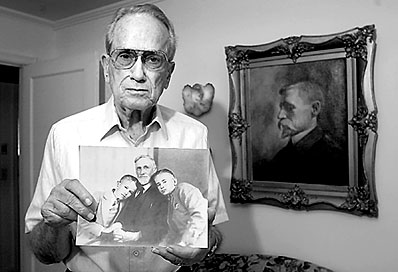 Vorus Williams of Shreveport, La., holds a picture
of his grandfather, Isaac Cline. Photo by Kevin Bartram
Isaac M. Cline
Meteorologist's career, life
would change after 1900 Storm
...

Cline's memoirs

Isaac Cline's wife is pictured with their three daughters, Allie May, Esther and Rosemary. Mrs. Cline perished in the storm.

---

"The battle for our lives, against the elements and the terrific hurricane winds and storm tossed wreckage lasted from 8 p.m. until near midnight. This struggle to live continued through one of the darkest of nights with only an occasional flash of lightning which reveals the terrible carnage about us."

- Isaac Cline in his1945 memoirs, "Storms, Floods and Sunshine"




A look at 'Isaac's Storm'
Erik Larson blends science and history to tell the story of Galveston, its people and the hurricane that devastated them. Larson follows individuals through the fateful day and the storm's aftermath.

..
By HEIDI LUTZ
The Daily News
It is hard to understand what changes would happen to a man who watched as his pregnant wife disappeared beneath raging flood waters.
Or a man who watched as his children struggled to stay afloat during a dark, treacherous night in September.
A man who so loved climatology - the study of weather and climate - but had to watch as weather tore his family apart.
Isaac Cline was the chief of the U.S. Weather Service bureau in Galveston during the 1900 Storm.
As a young meteorologist, Cline was eager to spend his years learning how weather can influence a person's health.
But after the night of Sept. 8, 1900, Cline's focus would change. Much of his professional career would be spent studying the science of tropical cyclones. He would go on to write textbooks and papers that experts in the field used until the technology of air reconnaissance became commonplace after World War II.
But in the story of his life, hurricanes tell only one chapter.
There is no doubt that his life forever changed on Sept. 8, 1900, as did the lives of thousands of people who survived that great hurricane. And it would be hard to imagine a day Cline did not think about that dreadful night.
For those closest to Cline, those memories were revealed in brief stories, and often no more than what was written in his autobiography. The man spoke little of that evening, despite spending a lifelong career studying tropical cyclones.
He spent more time talking about weather, his research and his work with the U.S. Weather Service. He also enjoyed art and shared his knowledge of art and glassware with anyone who would listen at his Art House in New Orleans' French Quarter.
| | |
| --- | --- |
| ... | Cline walks down a street with lunch and walking cane in hand. In New Orleans, Cline rode the St. Charles Avenue trolley. Shopkeepers along the route would watch him closely. If he carried his umbrella, they kept their merchandise inside, fearing it would rain. If he did not have his umbrella, shopkeepers put their wares on the sidewalk. |
Isaac Monroe Cline was a man of many interests and is a man who is perceived in many ways.
There typically are two portraits of Cline painted in history books. One is of a hero, who rode through town warning people of the impending danger of the hurricane.
The other is that of an arrogant man who did not think Galveston could be struck by a hurricane of the fierce intensity that washed across the island on Sept. 8, 1900. These critics describe a man who encouraged resistance against plans to build a wall to protect the city, a wall that would be built after the 1900 Storm. But neither image is 100 percent correct.
Both leave out the Isaac Monroe Cline that his family knew. The great story-telling grandfather who spent countless hours with his children and grandchildren and who visited with friends and strangers in his New Orleans Art House.
Vorus Williams, the son of Rosemary Cline Williams and the grandson of Isaac Cline, remembers a man who would visit frequently and tell stories of his life in the weather service.
"He came up here every Thanksgiving and would spend a few days," Williams said. "My grandpa was a joy. Grandpa was an interesting storyteller."
Original copies of Cline's books sit on shelves in the Shreveport, La., home of Vorus and Julia Williams. Glassware, antiques and paintings that once belonged to Cline now rest in the couple's modest Shreveport home.
Since the release of Erik Larson's "Isaac's Storm," and with the approaching centennial anniversary of the 1900 Storm, Vorus and Julia Williams have dug out old family photos and personal items of Cline.
And Vorus Williams is eager to share stories that Cline told to him as a child.
He can recall Cline's stories of Mexico and the great Mississippi floods. In fact, much of what made its way into Cline's memoirs, "Storms, Floods and Sunshine," made its way into the ears of attentive grandchildren listening to a bearded grandfather spin tales of days gone by. But what was missing from his stories were the horrors of Sept. 8.
Cline talked very little about the storm that killed his wife. And his children talked very little about the storm as well.
"As close as I was to Rosemary, she never talked about it," said Julia Williams.
Cline told his grandson stories about the Mississippi River floods of 1903 with pride. A flood threatened the Mississippi River valley all the way south to New Orleans. Cline forecast water levels would reach 21 feet at the city.
The U.S. Weather Service office disagreed and urged him to rescind that warning and continue with flood warnings that omitted any forecasts on flood levels. He disobeyed orders and continued to forecast such high water.
The levees at New Orleans were not high enough to keep the Mississippi River in its banks were the river to hit 21 feet. Cline urged the Levee Board to raise the levees, if only temporarily, to avoid the disaster that would follow if the river overflowed into the city.
Though he met resistance in the beginning, he was persistent, and the Levee Board agreed to construct a temporary levee of sandbags and raise the levee from two to four feet - and as high as five feet in some places.
This temporary levee prevented the river from flooding the city for some four weeks, with the river cresting at 20.7 feet.
"He really made his mark with his work on the Mississippi River floods," Vorus Williams said.
Another proud moment in Cline's life was the publication of "Tropical Cyclones," a textbook about the devastating weather systems that took his wife's life.
As a child, Cline knew he wanted to write a book that would leave a lasting mark in its field. At the time, he did not know what the subject would be, just that it would prove to be a lasting lesson for all who read it.
In his later life, Cline remained a sought-after luncheon and dinner speaker. Civic groups wanted to hear about his long career with the U.S. Weather Service, his research into weather patterns and his work in weather forecasting.
But he also was known for his Art House, Julia Williams said.
About a year after the storm struck Galveston, Cline took his three young daughters to New Orleans, where he was in charge of the U.S. Weather Bureau Station and section director and forecaster for Texas, Oklahoma, Arkansas and Louisiana. He also was in charge of cooperation between the Mexican Weather Service and the U.S. Weather Bureau, a duty he had since before his time in Galveston.
It was in New Orleans where Cline's three daughters grew up, where they were educated and where Cline would develop a love and appreciation for art.
Cline opened the Art House at 633 St. Peter's St. in the French Quarter. It was in this dusty shop that Cline would spend his free hours restoring paintings and collecting glassware and other American art.
A smock-draped Cline would visit with customers as they browsed through his shop, investigating pieces of glassware covered in thick layers of dust.
He refused to dust the shop because customers, as he put it, would be reluctant to touch dusty items, recalled Julia Williams.
She also recalled how even in his years as an art collector and dealer, Cline could not escape his reputation as an accurate weather forecaster.
Every day, Cline would ride the St. Charles Avenue street car. Shopkeepers along St. Charles Avenue would watch Cline carefully. It was the practice of many St. Charles Avenue shopkeepers to display merchandise on the sidewalks.
However, if they noticed Cline carrying an umbrella, the shopkeepers would keep everything inside, fearing rain as Cline did.
.