Photo Gallery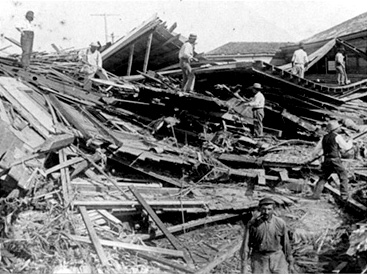 Survivors search the debris of a collapsed house.
The History of The Great Storm in Pictures
View more than 20 photographs from the archives of The Daily News, the Galveston County Museum and other area organizations. Scan through our selection -- or open the first photograph and let the site take you on an automatic tour through the chilling aftermath of the storm.
We invite you to visit again as we expand the photograph archive up until the 100th anniversary of the storm.
1. A home lies in ruins at 15th Street and Avenue K.
2. Scene of destruction near 16th Street and Avenue M.
3. A few houses remain standing at 16th Street and Avenue M.
4. Wind damage at 19th Street and Avenue N and 1/2.
5. Houses lie together in a mountain of timber at 19th Street.
6. A body lies half buried at 21st Street and Avenue O.
7. A view of the destruction at 27th Street and Avenue M.
8. A view of four block wide area wiped clean by the storm.
9. Timber stretches as far as the eye can see on 5th Street.
10. A panoramic shot of the island showing receeding floodwaters.
11. Several houses are collapsed against each other at Avenue L.
12. The bodies of storm victims are laid out in rows.
13. A man stands amidst storm debris with the Gulf behind him.
14. The First Baptist Church at 22nd Street and Avenue I.
15. The back of The Grand 1894 Opera House.
16. Several homes lie blown over against each other.
17. Lucas Terrace lies collapsed inward amidst a field of debris.
18. Another view of Lucas Terrace amidst a field of debris.
19. The S.S. Alamo as seen from the destruction at Mallory Wharf.
20. Survivors survey the damage to shops on Market Street.
21. A group of men stops to pose in the debris of a building.
22. A boat lies wedged against the debris of a dock at Pier 16.
23. UTMB's "Old Red" after the storm.
24.A ship sits lopsided amid the rubble at Pier 12.
25. Timber and scaffolding litter the scene at Pier 21.